Taking her place on the 2019 Footy Colours Day team is Swai!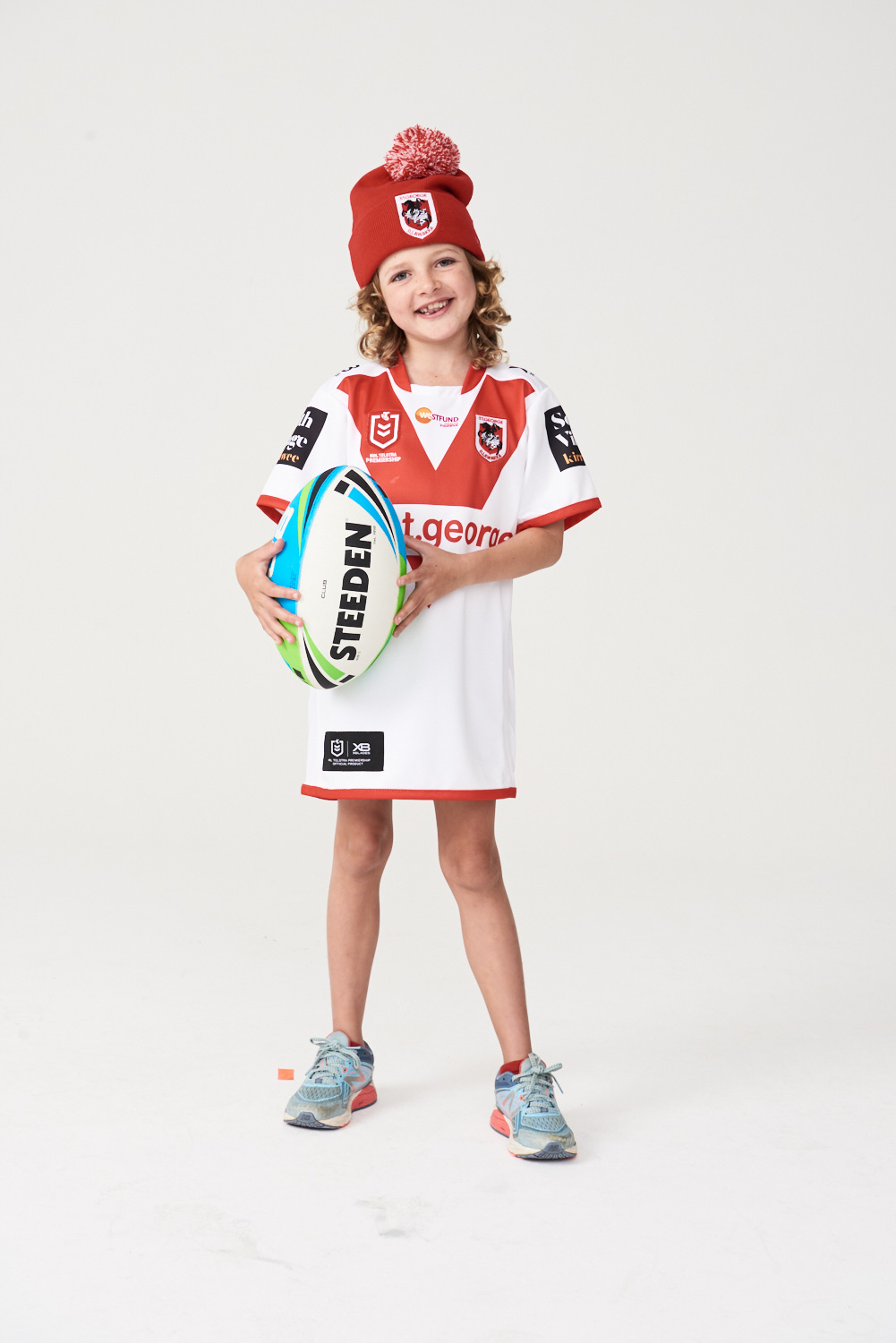 Joining the Footy Colours Day lineup in 2019 and capturing our hearts with her cheeky smile is nine-year-old Swai.
Swai who loves riding her bike, surfing, reading and creating started showing signs that all was not right in late 2016 when she began to complain of leg and arm pain, and was losing weight. Despite many trips to the doctors, it wasn't until a family camping trip in January 2017 when Swai could no longer walk that her parents were advised to take her to the hospital. Following several tests her parents were delivered the devastating news that Swai had Acute Lymphoblastic Leukaemia.
Swai's mum, Sam, recalls her daughter's no-fuss attitude to the news, "I remember breaking the news to her and the first thing Swai said was 'So how do we get rid of it?'. That was her first reaction and I remember thining, 'Yep that's pretty much it. How DO we get rid of it?"
Swai's diagnosis and subsequent invasive and constant treatment meant she missed attending most of Year 2 at school.
"It wasn't until people started asking me in the community 'Will she have to repeat?' that I thought 'Oh I don't think so'. Fortunately she didn't have to, but it does happen."
Swai was fortunate to have the same teacher for Year 2 as she did for Year 1 who was able to provide Swai with work she could do at home and in hospital with Fight Cancer Foundation's education support team.
Swai was also able to play games, link up with her school, and complete some math and reading activities when she felt well enough to join our education support team who run lessons in the waiting area of the Oncology Clinic.
Swai's determined nature spurred her return to school full time the year after.
"She had a different teacher in Year 3, whom was awesome as well which meant it was a really smooth transition back to school. We started with her staying up to recess and after the first day she said 'No, I want to go the whole day', so it was just the first day she did till recess," said Sam.
In year 4 now, Swai enjoys math, reading, writing, art and science. Like any other nine-year-old her future career plans continue to change from paleontologist to teacher and now singer/actor!
Sam who has always regularly donated to charity says their family now knows firsthand the importance of supporting charities like Fight Cancer Foundation.
"Now that we know what it feels like to be one of those families that has gone through something like this we understand how important it is to do a fundraiser like Footy Colours Day. Footy Colours Day provides a really fun way for everyone to get involved.
"You enter the Oncology Clinic Westmead Hospital and there are kids from all walks of life – all with different backgrounds and stories - there is just no way of really working out how anyone got it (cancer). We never once said why us because it becomes a matter of why not us."
You can support kids like Swai to keep up with their school while receiving treatment by registering to host a Footy Colours Day at your school, organisation, group or club.